Published on 16 May 2017 by David
CentreCRM now allows you to import data from Companies House to a client, allowing you to see the Profile, Officers, Persons of Significant Control and Filing History all within CentreCRM. We also automatically update the data from Companies House every day, so you've always got the latest information.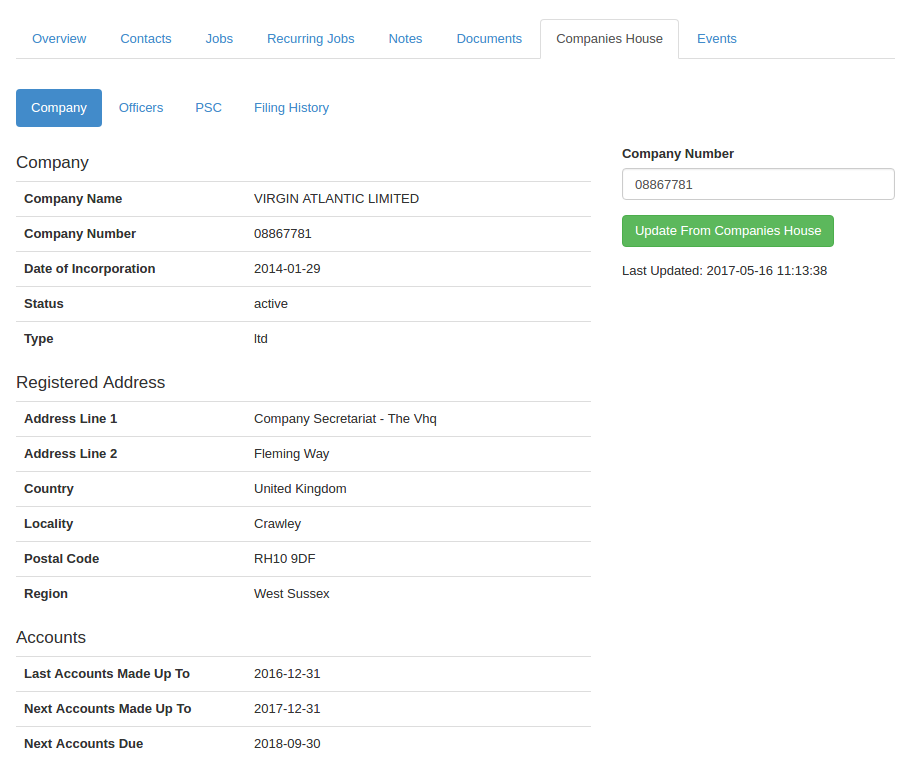 To set up Companies House data in CentreCRM, all you need is the company number.
1. Navigate to the relevant client
2. Click the Companies House tab
3. Enter the registered Company Number in the Company Number field
4. Click Get From Companies House

The import from Companies House may take a few moments, depending on the size and age of the company. When the information has completed importing, you will be able to access the company profile, officers, persons of significant control and filing history of the company. You can download any relevant documents from the filing history directly from within CentreCRM.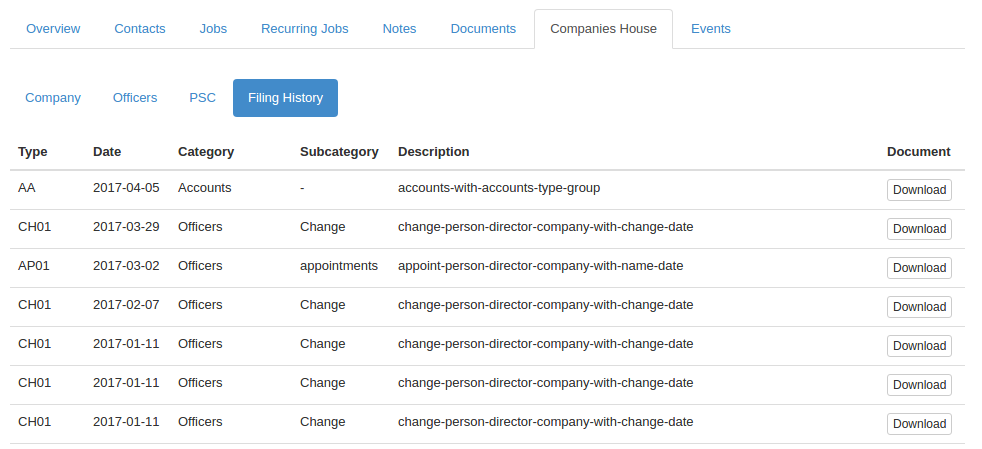 CentreCRM will update the information from Companies House automatically every day, but you can also manually update the data at any time.
Read more
---
Published on 14 November 2016 by Jon
We're happy to announce that we've added two new features to CentreCRM, both of which pertain to Jobs.
The first improvement is that you can now assign each job to one or more specific staff members. This means that each person will be able to easily see which jobs they are responsible for. Managers can also filter by each assignee to get an updated job progress report for each staff member.
To assign a job to a member:
Create a new job or edit an existing job
Select one or more users from the Assign to field
Click Save
You can also create default assignees for jobs in your Job Templates, which will be set automatically when you create a job from that template.
The second improvement relates to the job permissions system - there are now two specific permissions:
Allow users to only view their own jobs.
Allow users to view all jobs.
An example where this may be useful is to allow managers access to all jobs, but an outside contractor only gets access to their own specific jobs.
Read more
---
Published on 21 October 2016 by Jon Behr
CentreCRM now offers a permission system that allows companies to limit user access to various areas such as Jobs, Clients and Contacts.
The permission system is very easy to use, allowing company owners and selected user to provide 3 levels of access:
No access
View only access
View and Edit access
All existing users have already been given permissions that provide the same access as before. As well as being able to edit those permissions, going forward you can now also set the permissions for any new users that you invite.
Adjusting a user's permissions is simple:
Navigate to the main Settings tab
Click Manage Users
Click the Permissions button for the relevant user
Using the drop-down selectors, set access to each area as required
The permissions you set will then be applied immediately. We'll be rolling out further enhancements in this area in the near future.
Read more
---
Published on 29 June 2015 by Aivis Silins
Company managers can now receive weekly summary emails.
Summary emails will give you insight about on-going jobs - it includes a list of all outstanding outstanding jobs, as well as a list of all jobs falling due in the next week. This is a great way to review your week ahead and plan your team's work week accordingly.
You can enable or disable this feature as follows:
Navigate to the main Settings tab
Click Company Settings & Logo
Uncheck the option Send weekly jobs summary email
Click Save
Read more
---
Published on 09 June 2015 by Jon Behr
CentreCRM now allows you to create a personalised calendar feed, which you can use with your calendar application of choice. This means that you can get all of your CentreCRM job and task deadlines in any other calendar, including Google Calendar, Microsoft Outlook or Yahoo.
Getting started is really easy:
Navigate to the main Settings tab
Click Calendar Feed Settings
Check the options you would like to be sent to your calendar
Click Generate
A unique URL will then be generated, and you can use this in your calendar application to connect with CentreCRM. Your calendar will automatically start retrieving the relevant information from CentreCRM, and update it on a regular basis.
For more information, please see
https://centrecrm.uservoice.com/knowledgebase/articles/619557
Read more
---
Published on 27 May 2015 by Aivis Silins
You can now copy your Job Templates with two simple steps:
Choose which template you would like to copy and click on the Copy button next to Edit.
Adjust information as desired and confirm.
And now you have a copy of your job template!
Once the template has been copied, you can edit the milestones and tasks if needed, and then start using the template right away.
Read more
---
Published on 19 May 2015 by David La Ronde
You can now add the same job to multiple clients at the same time. For example, if you need to create the same Corporate Tax job for a few clients, its no longer necessary to do them one-at-a-time - simply select all the relevant client names when creating the job, and we'll handle the rest.
Read more
---
Published on 14 May 2015 by Jon Behr
You can now automatically copy all outgoing emails to an email address of your choosing.
To enable this option, navigate to the Settings tab and then select the Company Settings and Logo option.
You can then enter the email address into the BCC email address field - from that point on you will automatically get a copy of all emails that are sent from your CentreCRM account.
Read more
---
Published on 05 October 2014 by Jonathan Behr
We've spoken to a lot of small and medium accounting practices over the past few weeks to find out what their biggest pain points are. One item that keeps coming up is the ability to automate as much work as possible. Whether that's creating recurring jobs, tracking job costing or just knowing which jobs are next in the priority list.
We firmly agree that anything that can be automated, should be automated. This helps to free up your time so that you can focus on client service and growing your practice.
Being able to automatically send emails to clients is a significant time sink for many practices. For example, you may need to send off your standard contract to a prospective client when a job reaches a certain status, or you may want to send out a request for draft financials. These features are now available in CentreCRM - just set up the task once and let the system handle all the communication for you.
Automatic Task Triggers
You can set up a new task trigger in a job template or directly in a job. You can specify which mail template to use, as well as how many times the trigger should be executed and how often.
This is a very powerful feature, and can be used to automate many aspects of your business to save you loads of time.
Even More Email Tags
We've added more email tags to Mail Templates, making it super easy to merge in fields from contacts, clients, jobs and your own company. Remember that you can now send Mail Templates directly from your jobs too.
Improved Email Editor
We've tweaked the Email Template editor so that its now easier and more intuitive to use. PDF printing is also much improved.
Read more
---
Published on 01 October 2014 by Jonathan Behr
We've added a whole bunch of new features to CentreCRM that we think you will be interested in.
Company Documents
You now have access to a Company Documents tab so that you can easily manage all of your documents in CentreCRM in one place. You can upload, download and delete all your documents from a central location.
Additional Email Tags
We've added loads more email tags to Mail Templates, making it even easier to merge in fields from contacts, clients and now jobs. This means that you can send Mail Templates directly from one or more jobs, and customise each email on the fly.
Email attachments
You can now attach any documents from your company to your email templates. For example, its now really easy to make sure that your Standard Client Contract gets attached to your Client Introduction Email Template. You'll never again forget to attach the right document to the right email!
Email Subject
Mail Templates now have space for a subject. Of course, you can use the merge tags in this subject field as well.
Filters, filters, everywhere
We've added filters to the Jobs, Contacts and Clients views so that you can easily find the information that you need. Need to find all overdue Corporate Tax jobs? No problem. Or how about all Partnership and Limited Company Clients that have "South" in their name. We got you covered!
Read more